Multispecialty Dental Clinic in Kalyani Nagar, Pune.
Braces & smiles bring you the Multispeciality dental clinic of Pune. The specialities that we feed to are Braces (Orthodontics), Dental Implants (Periodontics), Cosmetic and Pediatric dentistry. Our team will strive to make your experience a premium one by providing you truly painless treatment, well atmosphere clinic, state of art dental technology.
A beautiful smile is a powerful thing. there are hundreds of languages around the world but a smile speaks all of them .treat your teeth for a healthy smile because there is a huge difference between a good or healthy smile. At the Braces & Smile Dental clinic, we focus on delivering excellent smile care and promoting lifetime oral health. Please feel free to browse through our website to know more about the Braces & Smiles Dental clinic. We hope you enjoy navigating through our website.
Braces and Smiles dental clinic provides a full array of dental treatments including comprehensive dental cleaning or more complex dental surgery. Here is a summary of services which is offered by our trusted and dedicated professional dentist in Pune.
Dental Services
Child Orthodontics
Crowns & Bridges
Wisdom Tooth Removal
Treatment of Dental Implants
Comprehensive Gum Care
Denture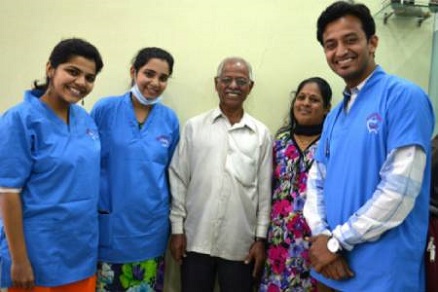 Trusted and Reliable Dentists in Pune
Dr. Prashant Gupta
(Orthodontics and Dentofacial Orthopaedics)
Dr. Vrushalee Oke
(Endodontist – Root Canal Specialist)
Why Choose Braces & Smile: We provide the finest quality comprehensive dental care for children, teens, and adolescents with a strict sterilization policy, child-friendly clinical atmosphere, and state of art equipment and materials.
Satisfied Patients
Latest Dental Technology
Dental Education
100% kids friendly
Lots of positive reviews
Contact Us
Braces & Smiles Orthodontic and dental care, Kalyani Nagar, Pune
Address: 232, 1st Floor, Vittoria 1, Fortaleza, Opp Gold Adlabs, Kalyani nagar, Pune 411014
Mobile: +91 8411934439