Sabzilana is a online portal of Vegetables and fruits where one can select and buy a good sort of fruits and vegetables merely sitting reception . We aim at making the life-style of our customers far more simpler. With the convenience of a click, fruits and vegetables reach the doorstep with the power of Home delivery, saving all the muscular and time consuming tasks.
Our customers can now say 'NO' to? traffic and parking worries, heavy shopping bags, defaulting in weight, scorching heat and other unfavorable weather .
We believe that our customers deserve the simplest of services within the sort of well washed vegetables, which are cleaned, Untouched Asorted and Hygienically packed giving importance to keeping them fresh all throughout. Our team focuses to keep? maintaining the simplest quality at the highest priority at each stage of operations and specioally for the priority of health of our customers.
it's also a step towards the dream of a 'Digital India', to start out with a 'Digital Nagpur'. Our efforts,thus, deserve the religion and confidence of our customers. Sabzilana recognised as a best Social Impact Startup of Nagpur. Global Konnect recognised us as a Best Online Vegetable and fruit Startup in nagpur.
Our Sabzi Package Scheme is that the most populer for the launching the worth INSURANCE FEATURE first time in India.
RIGHT TO EARN MOVEMENT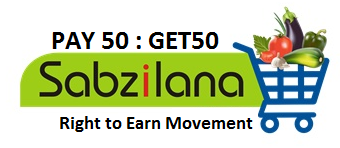 We believe that any business cannot grow until their people grow. Speed of growth of the people is the only parameter to measure the growth or strength of any business.?
We believe that any business has a growth limit up to the Dreams/Vision. So we believe in the magic Formula "Think Big- Dream Big-Go Small".?
We believe Sabzilana.com cannot grow and achieve our dreams without our beloved costumers and we ever count our customer as a growth partner.
However we reached at the significant point through many struggles, obstacles, up gradations, and achievements and now we are ready to take off our dreams and export a brand new story from the precious ground of the Smart City Nagpur through its smart Citizens.
Here we are sharing our growth and profits with each of our customers registered with us.
Refer once and earn every day
sabzilana.com
52, AVG Layout, Lakadganj
Maharashtra,
Nagpur.
Mobile No: 7304040040/ 7722096777